Parts of the puzzle
Donna, when I experience your works I am blown away by the meticulous rendering of detail and the way this intense focus is sustained throughout your complex compositions. How do you develop large works such as 'The Warriors', 2016?
The subject really drives my larger drawings into existence. I could in fact say this about all of my work but the larger pieces hold up this idea more intensely. 'The Warriors' composition was fully conceived as a quick sketch after a long period of thinking about my relationship to growing up in Australia. I had recently become interested in introducing autobiographical elements into my work and the excitement and absorption of this drove the details, colours and textures throughout it's making. The starting point were my memories of being a 15 year old in a netball team called the 'Woolloomooloo Warriors' and this became entwined with the ancient history I was learning at school at that time - in particular my 'teenage' love of the pharaoh Akhenaten - so Egyptian wall painting began to influence the composition.
It became an intense game of problem solving and discovery, over the course of a year. It was the first time I'd worked with colour pencils and this new material really developed a whole new process of working for me. The slow meticulous rendering kept complete pace with my conceptual hold on the subject and the intensity of feeling. Which gave me a great freedom.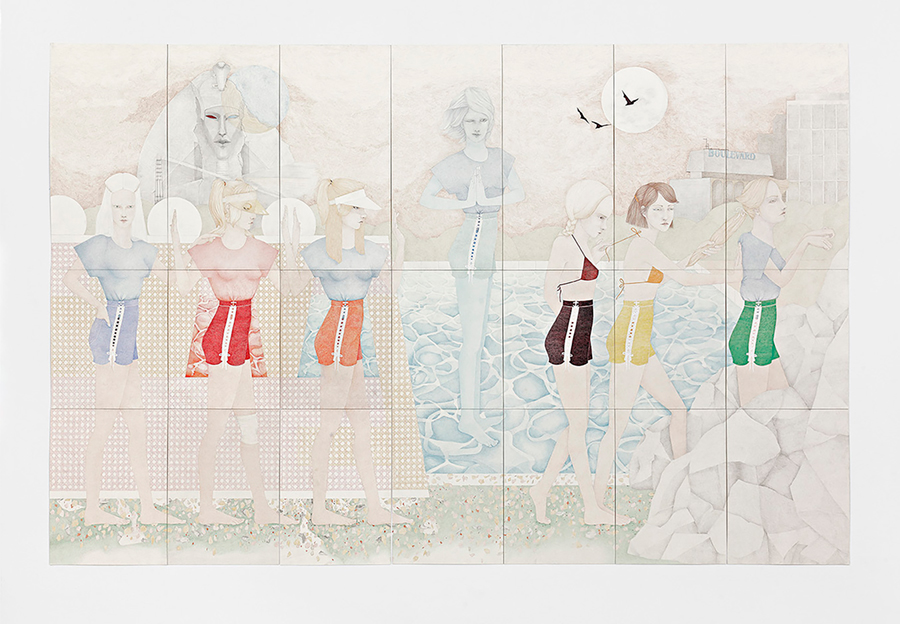 Donna Huddleston, 'The Warriors', 2016, Caran d'Ache on paper, 21 parts, overall: 502.9 x 198.1 cm. Courtesy of the artist and Simon Lee Gallery.
Behind the Scenes
Following on from this, what processes occur behind the scenes? Do you collage, sketch, write, dance or just imagine? Where is the balance between analytical thinking and imagination in your developmental phase of making?
Before I start any body of work I always have an idea of the particular subject I'm interested in exploring. Then I allow myself as long as I need to read, watch films, look at art, gather visual references and write - all to get to a sensory feeling of the subject. I know I'm ready to start making when I feel a strong desire to draw and images start to form in my mind. By this time I'm also usually impatient to start actually drawing, so I either make very quick sketches or just jump straight into making a work. Analytical thinking and the imagination depend on each other from start to finish.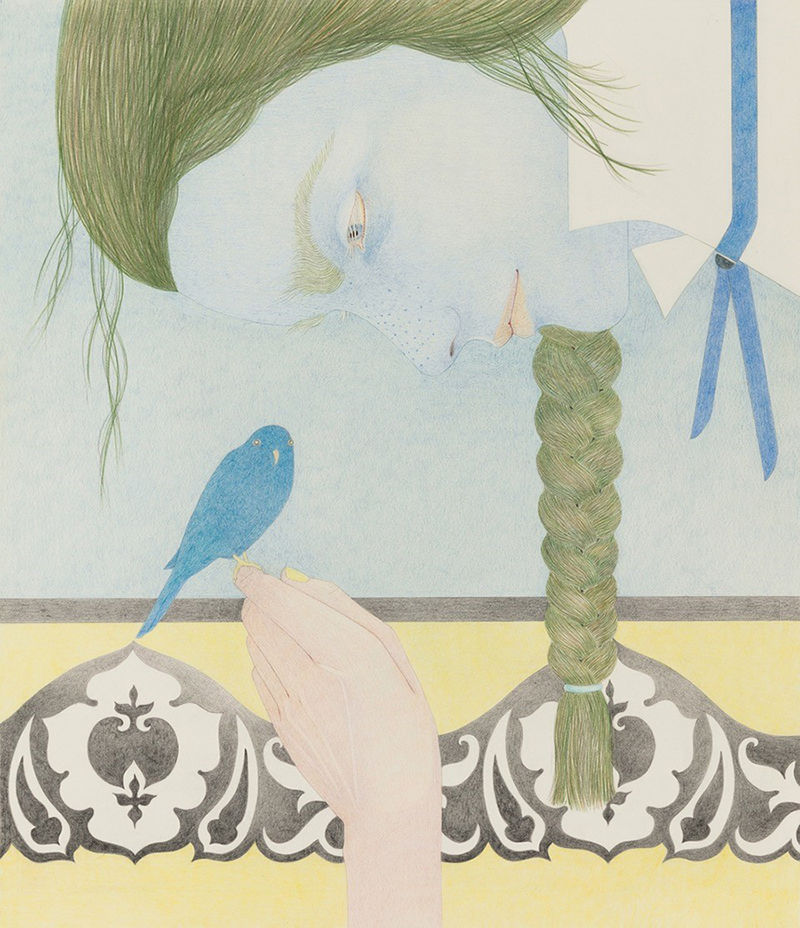 Donna Huddleston, 'The Serbian', 2017. Caran d'Ache on paper 49 x 43 cm. Courtesy of the artist.
Rolling Thunder Revue
There is an image I have seen of you in your studio. Behind you on the drawing board are a series of visual references; including a close-cropped image of Bob Dylan's face complete with white make up and a hat brimmed with flowers. What other visual or cultural references are on your metaphorical drawing board? How would you describe the visual world they form?
Yes, I had just seen that documentary and was in love with Dylan's amazing look, amongst everything else. I printed that particular image as I loved his three quarter profile and thought it might come in handy for a drawing. I don't copy or work directly from any one visual reference but build associations between them to spark ideas. I totally surround myself with them in the studio, in a bid to absorb them both subliminally and directly. Years later something can come to mind when I'm at work. I also file them away in my reference library when I've produced the work, so they're on hand to be recalled and are a visual time capsule of a particular body of work. The references can be anything really, from film stills to architectural and interior details, animals, artworks, actors…… It's about texture, feeling, light, a look.
Nothing is off limits, there's no hierarchy - I just follow my nose and gather, take photos, look at books, search the internet and do a lot of printing. I feel you become magnetised to certain things when you're making a work, which leads and surprises you and really helps build the work in all sorts of ways. The references really get this instinctive process started for me and it's a matter of really holding onto that until the drawings become themselves and then they begin to lead me.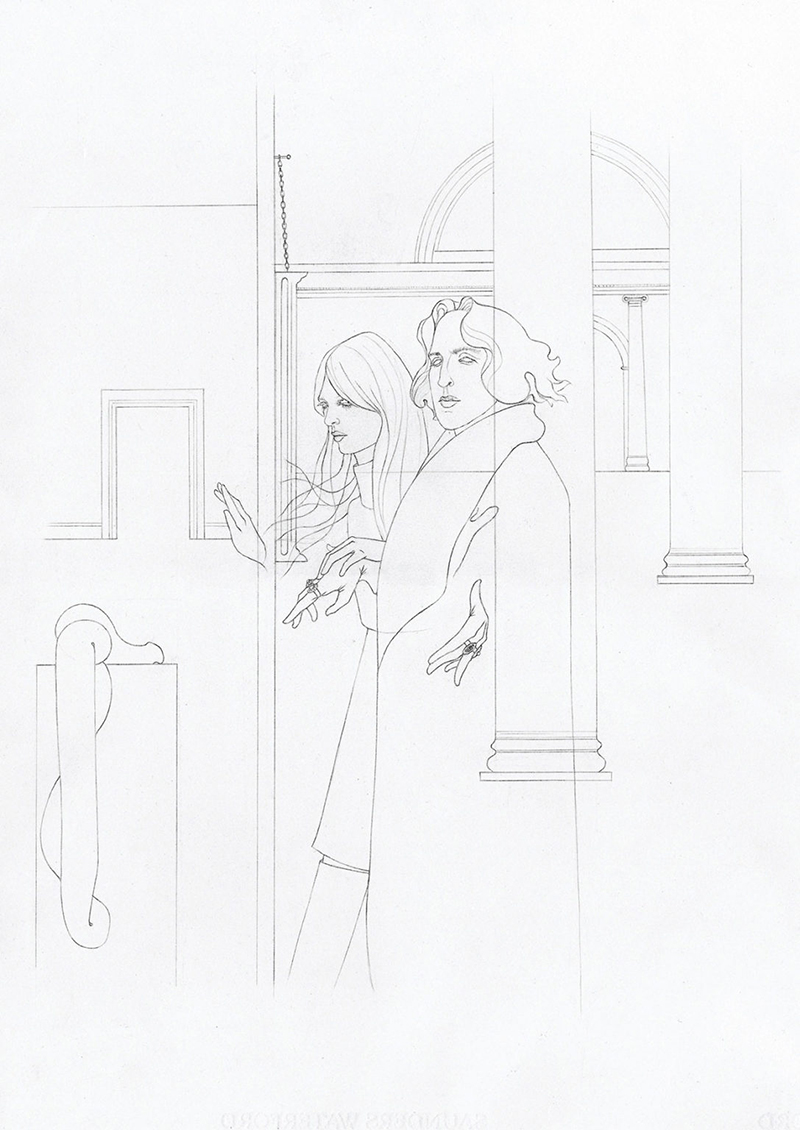 Donna Huddleston, 'Oscar and Nico', 2017, Pencil on paper, 45 x 55 cm. Courtesy of the artist.
Nostalgia
Would you say that your work is nostalgic in the way that it gestures to the aesthetics of other times? Do you aim to summon a feeling of the 'past'?
No, I'm very interested in the present and that's not my particular aim. I don't ever look at any one period or aim to directly conjure a past. Of course, I have instinctive likes and dislikes and I'm completely formed by the times I grew up in - but all of this is indirect for me. I hope to make something new through associations. Memory plays a huge part but it's about what this becomes in the now. It's more of a feeling I'm after, using whatever works: past, present, future.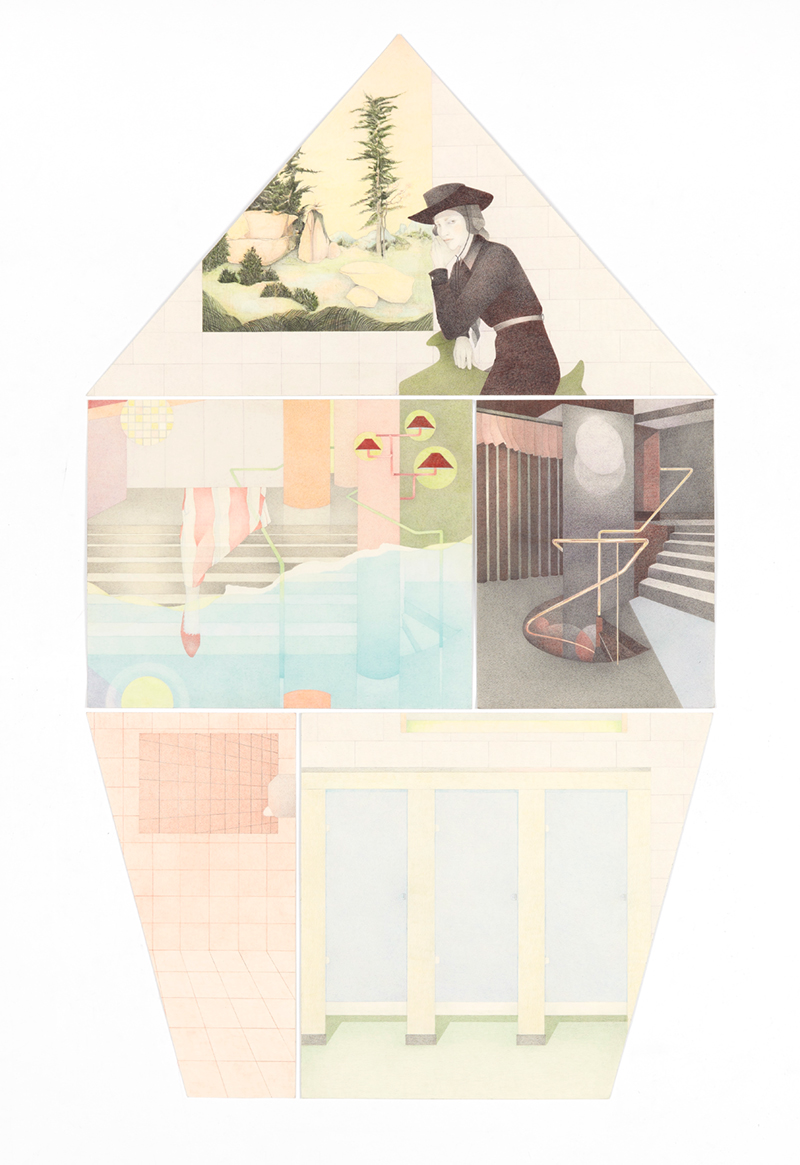 Donna Huddleston, 'Incognito', 2017, Caran d'Ache on paper, 90 x 135 cm. Courtesy of the artist
Control
There is an immense sense of control in your work: in your technical skill and precise handling of Caran d'Ache but also in the interactions between the figures you depict. In 'Costume Drama' two women are dressed and poised in a way that is utterly feminine whilst being full of threat and passive aggression. Is control an important element of your practice?
Yes, a tension is important both within me and the drawing. This is a really fundamental aspect of a drawing for me - it conceptually holds me, the composition and subject together - it's the adhesive in a way. A sense of foreboding is alluring of course, alongside humour - I guess it's really about an atmosphere of drama. I seem to be able to access and find this tension through the technical challenges of working with the Luminace pencils and the gradual building up of colour and layers. It's a slow but rewarding reveal. I've tried to speed up this process but it just doesn't work. During my periods of research I'm also building myself up for what's ahead in terms of the technical precision and the concentration and control needed. Sort of preparing my nerves.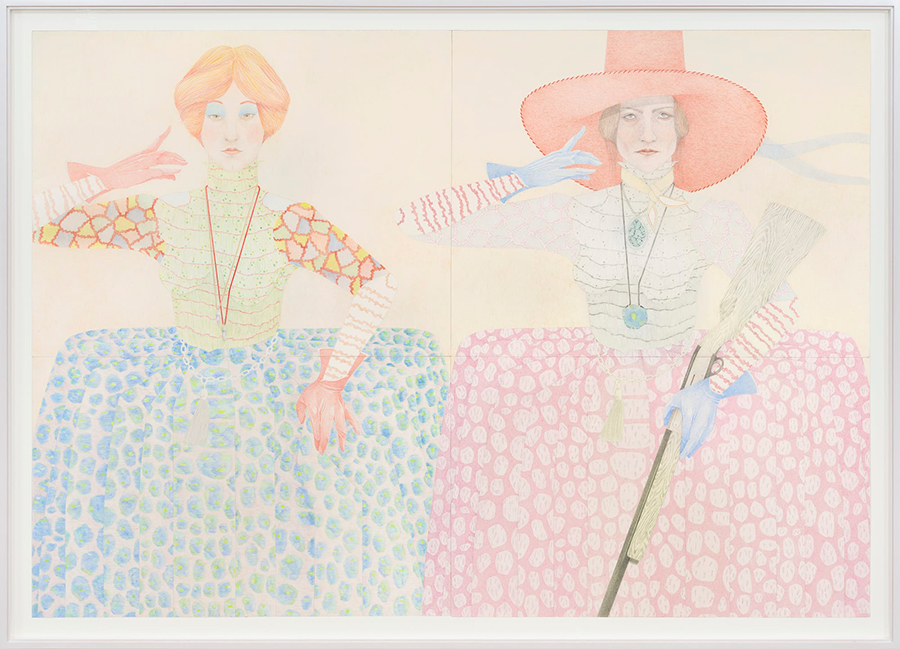 Donna Huddleston, 'Costume Drama', 2020 Caran d'Ache on paper, 100 x 145 cm. Courtesy of the artist and Simon Lee Gallery. Photo: Eva Herzog.
The Dramatic Arts
You studied Theatre Design at the National Institute of Dramatic Arts in Australia. How did that training and your later professional work as a set designer inform your current practice? What did this experience bring that a traditional Fine Art Education may not have?
I actually did go to Art School before I studied Theatre Design but was a little lost to be honest, so I was searching for more. I had become very interested in performance: drama and narrative - so thought Theatrical Design might be a better place for me. I was wrong, as I never felt fully satisfied by the process of design or the outcome. I'm also not sure I was very good at it. But it has greatly informed what I do now in terms of how I make, feel and think about images and of course my subject matter. I really only make what I do now because of this combination of studying both art and theatre design. So perhaps I was right and I had to do both.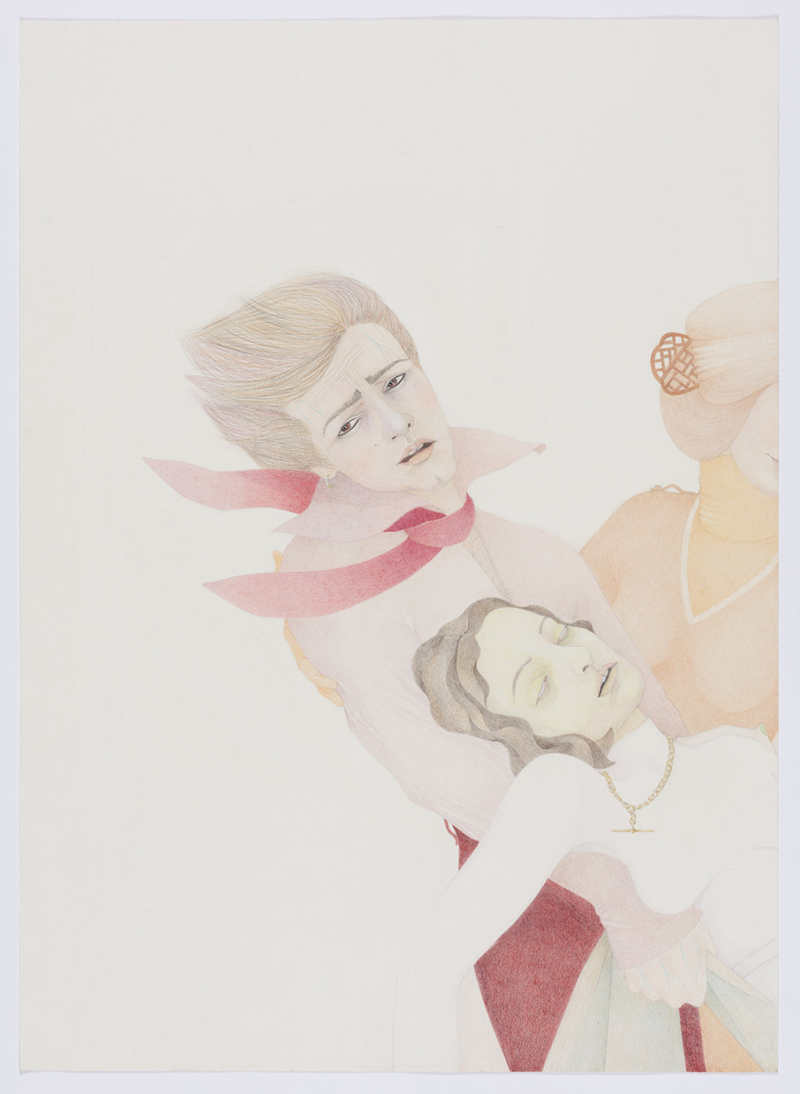 Donna Huddleston, 'The Exhausted Student' (detail), 2019, Coloured pencil on paper, 145 x 226 cm. Courtesy the artist.
The Visual Arts
When did you feel that you needed to pursue a career as a Fine Artist? What lead you out of the theatre and into the gallery?
As I mentioned above, I didn't ever feel very artistically satisfied working as a designer. There was also not a lot of work in the Theatre in Sydney when I graduated - so myself and most of my fellow designers ended up working in film. Fox studios had just opened in Sydney at the time and we got gobbled up by big film productions. This then led me to working in Los Angeles. It was after almost 2 years working there that I realised I was actually more interested and excited in getting to the design: the research, drawing, model making etc. than the actual outcome of it (which is shaped by so many people!). So, I left my burgeoning design career and escaped to London - as I wasn't ready to go home and I had an Irish passport. I then very, very slowly started to draw and make things whilst doing a multitude of different jobs to get by. It was a tricky time but I immediately felt free, so knew it was the right thing to do.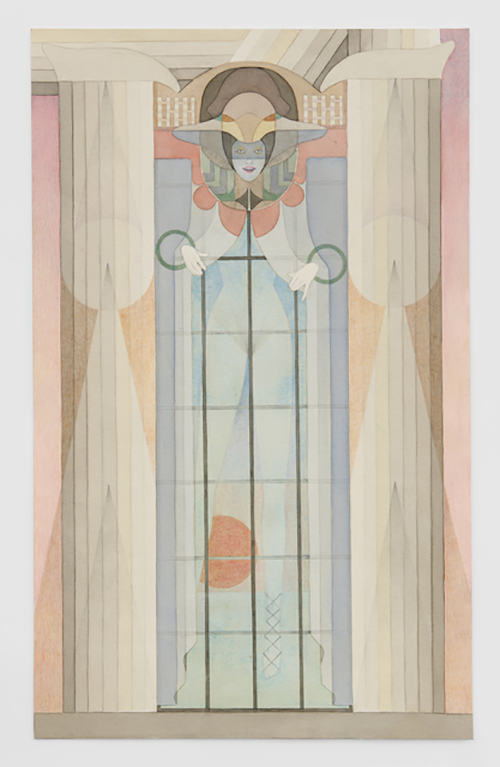 Donna Huddleston, 'Design for Window 1', 2015, watercolour and gouache on paper, 61.6 × 39.8 × 3.2 cm. Courtesy of the artist and Simon Lee Gallery
The Dark Arts
What is the place for magic, ritual or the occult within your work? I am thinking of the title of your performance 'Witch Dance'; the symbolism of certain figures or charms; or even the effects of formal strategies such as symmetry, geometry and spatial illusion?
I am drawn to all of the above. The supernatural, magic, fantasy, science fiction has always felt a part of being in the world to me - living alongside it and with it has always felt quite normal and an extremely visual experience. Creating anything involves such a fine balancing act between conjuring and holding and it's hard to deny the importance of a spiritual connection in this. But really that's also making Art I would say. I don't find it useful to analyse these things too much, it undoes it for me as it's a world to do with space - and this changes all the time. The formal strategies come more from a desire to play with representation and the physical boundaries of a drawing. A drawing is always very three dimensional in my mind, so it's the butting up of this against the flat piece of paper - which become technical matters.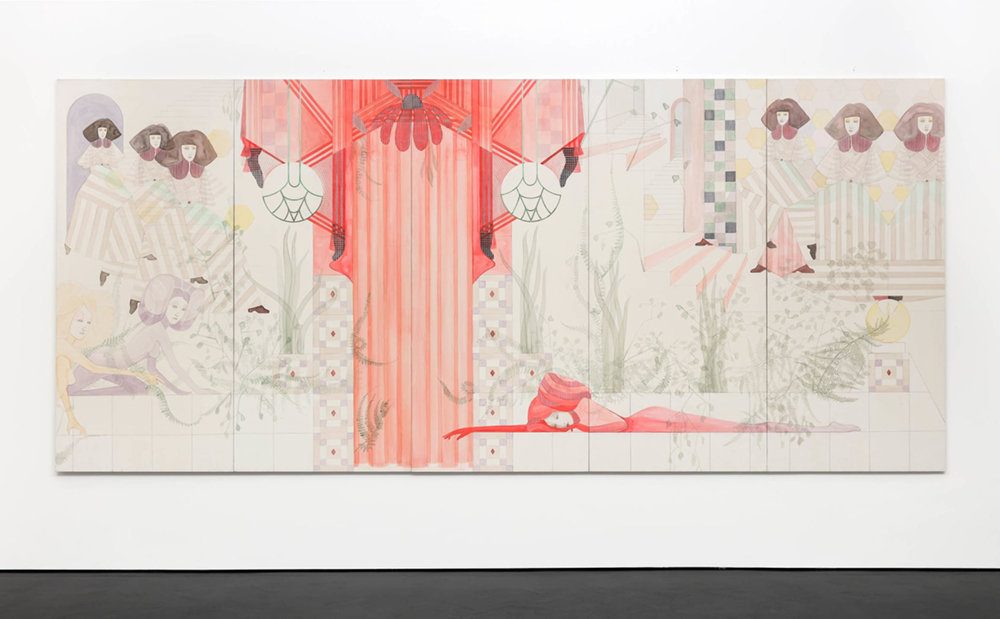 Donna Huddleston, 'WD 5', 2012 - 2018, Phototex, digital laser print, watercolour, gouache and Caran d'Ache on Aluminium panels. Each panel: 200 x 90cm, overall: 200 x 450cm. Courtesy of the artist and Stephan Freidman Gallery.
Witch Dance
I really enjoyed watching the documentation of your 2013 performance 'Witch Dance', which is described as 'a continuation of a body of work which explores (Mary) Wigman's German Expressionist choreography' by the Drawing Room. This piece combines costume, choreography, sound and set to great effect. How did you arrive at that performance? How did you collaborate with and direct others to develop this work?
The work developed through several drawings and a mural that was commissioned for Sadler's Wells Theatre. I had thought it was going to remain an imaginary performance but then the Drawing Room directors invited me to stage it - so I accepted the challenge. It then became a sort of reckoning with my theatrical past and I combined my love of stage craft - the smoke and mirrors - with the fundamentals of a classical dramatic structure: two protagonists (the witches); a chorus; wandering characters - archetypes. I also got to do everything from directing to costumes, set and choreography, something I never did in my theatre career.
As there was no dialogue, I built the choreography around three pieces of music I commissioned. I then hired dancers and directed them not to dance but more gesture through the set pieces. The choreography was a collage from a multitude of films including West Side Story, Almodóvar's High Heels 'prison dance', The Fury, old Hollywood musicals to name a few. The dancers adapted and worked from footage I showed them and what we then discovered in the rehearsals. We didn't have much time, so it did really come together on the night - the energy and presence of the audience really pulled it all together. It was still a bit sloppy in the last rehearsal - hours before the performance - which was nerve wracking. I'm still amazed by how the performers fed off the audience and suddenly it was super tight.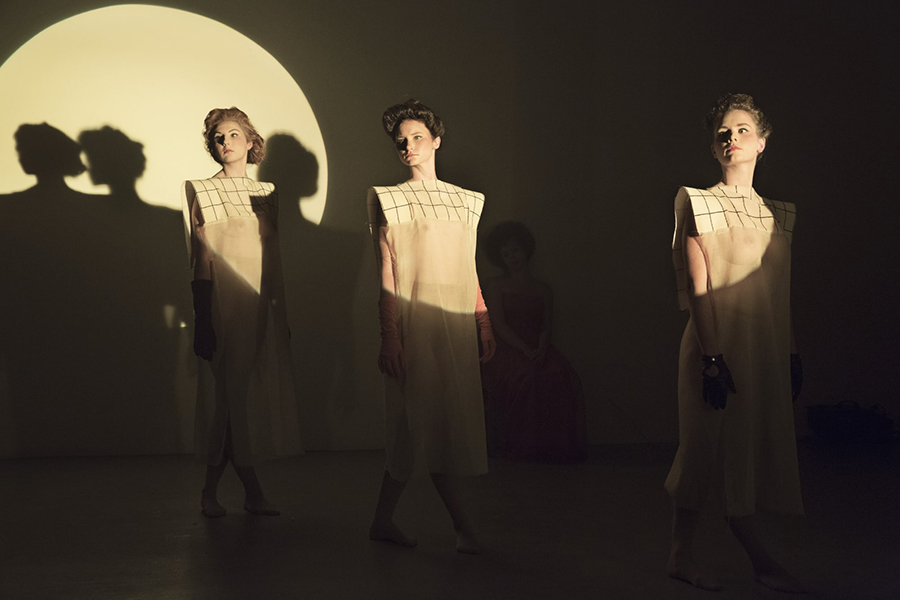 Donna Huddleston, 'Witch Dance: A Performance', 2013, Duration: 40 mins, Drawing Room, London UK. Courtesy of the artist.
Women and Girls
Women are usually the focus of your compositions; often packs of young women on the cusp of maturity, or established female leads in delicate regalia. Would you say that you are exploring womanhood throughout your work? What is it about groups of women that are so compelling for you?
I guess I am just working with the most direct material I have, which is being a woman in the world. This holds the most power for me in terms of a subject right now - If we were to work on the principle that it's all a self portrait… there's very much a performative aspect for me, in creating the figures in the drawing. I was and still am quite interested in doing some acting.
I do also have a lot of images of men in my studio, they inform drawings too and I occasionally draw them but there's something about drawing the female form that holds a certain psychological power for me and that feels a necessary element of my work. I would like to introduce the male figure more.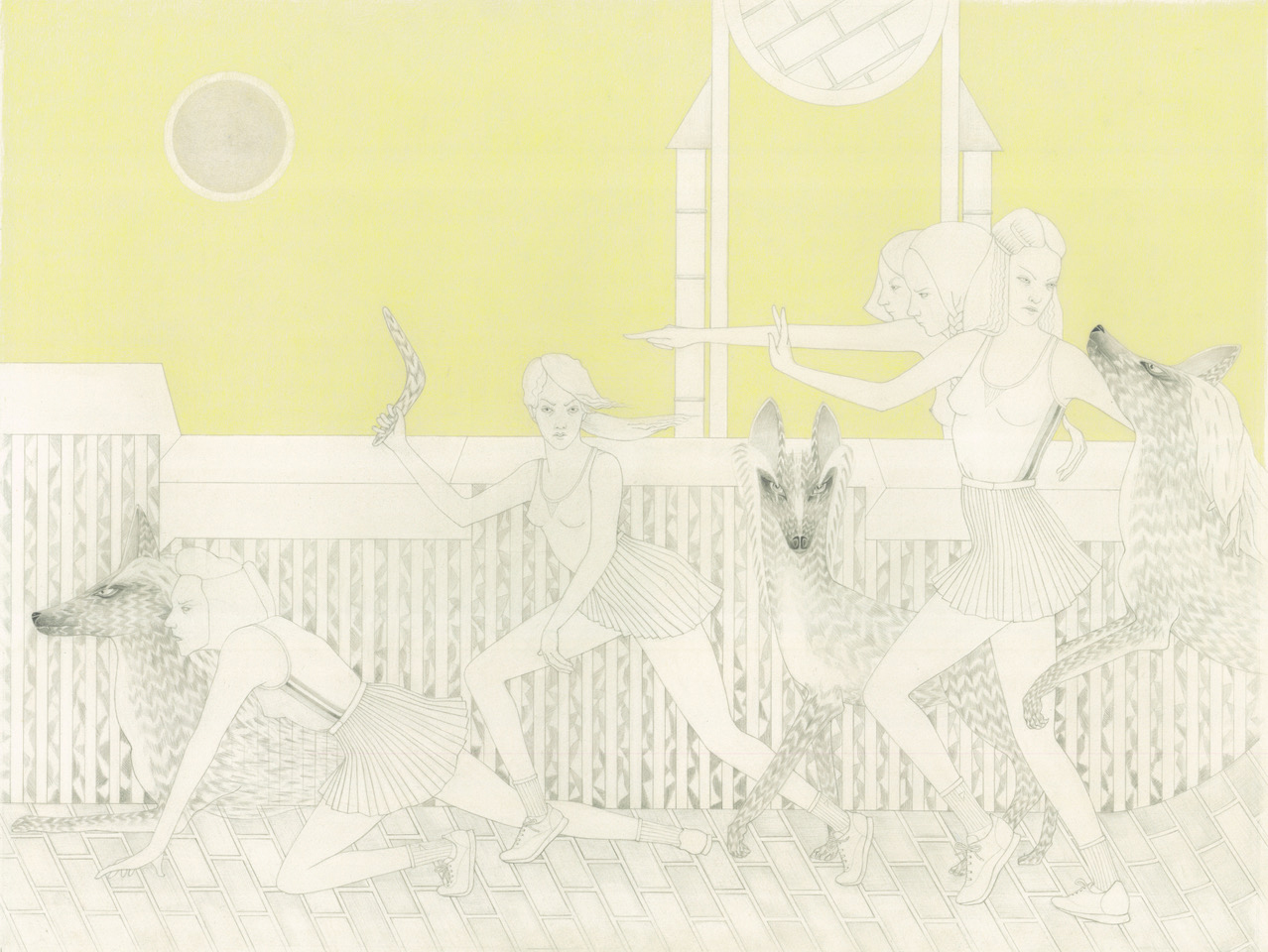 Donna Huddleston, 'The Warriors in Fiji', 2016, pencil and Caran d'Ache on paper, 47 x 62.5 cm. Courtesy of the artist and Stephen Friedman Gallery.
Future
What are you currently working on or thinking about?
I'm currently hand colouring a new print edition of my work 'The Instant' made with Provinz Editions. This will be launched in June 2021, alongside drawings in a two person exhibition at their Showroom in Bochum, Germany.
I'm also currently making a large body of new work for my first solo show with Simon Lee Gallery, London - this will be in January 2022.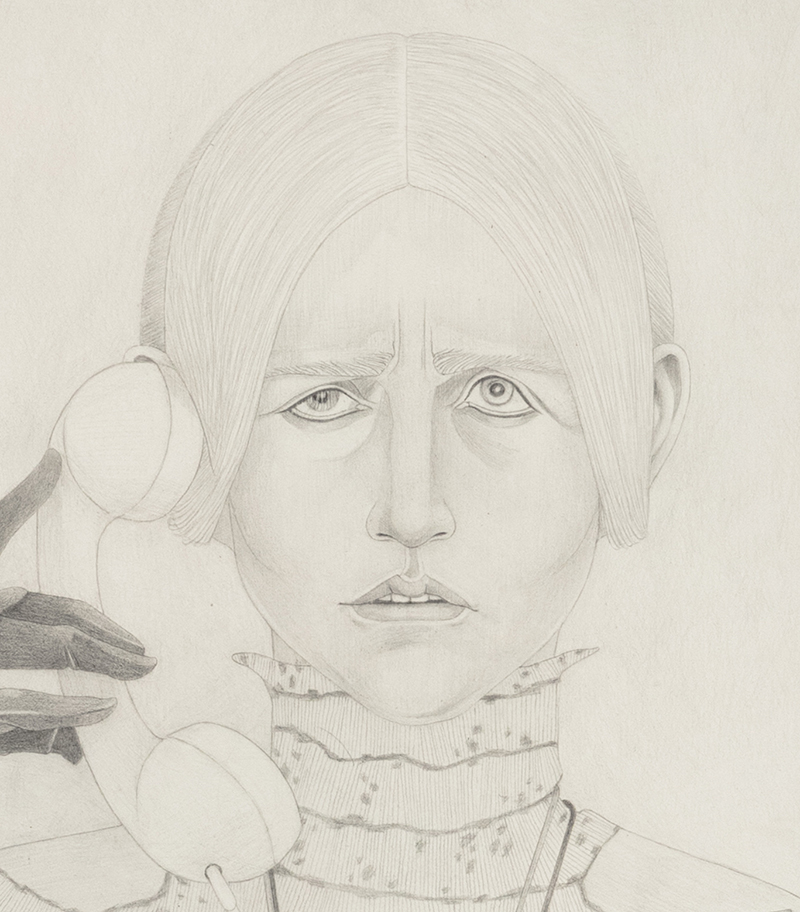 Donna Huddleston, 'The Call' (detail), 2019, pencil on paper, 106 x 72 cm. Courtesy of the artist and Simon Lee Gallery.
Friends
Finally, which artists do you look to and appreciate from our present moment?
Oh so many… Kai Althoff, Aldous Harding, Gareth Jones, Jessie Buckley to name a few.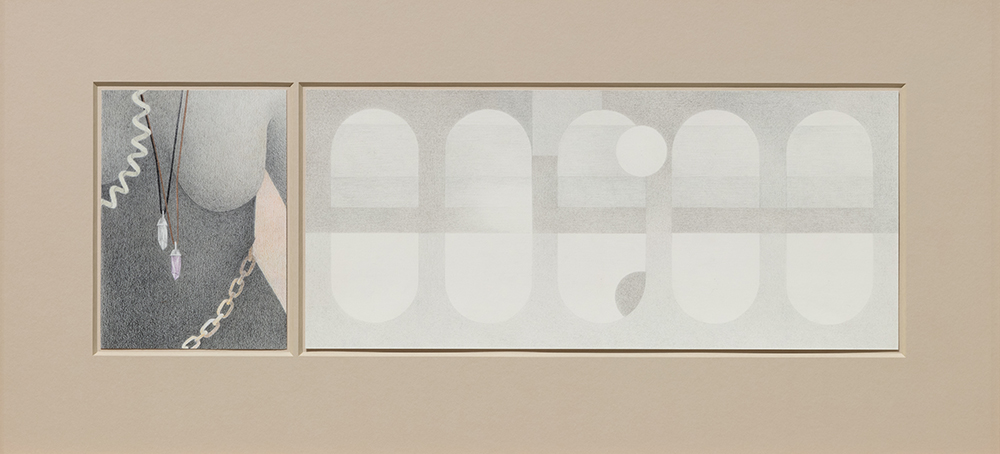 Donna Huddleston, 'The Instant', 2019, coloured pencil, silver and gold point on paper, 25 x 90 cm. Courtesy of the artist.
This conversation took place with Fay Nicolson via email during April 2021.